We Build More Than Backyard Sports
We Build Memories
Are you a Sports Lover Who Wants to Help Children,
Families and Communities Experience the Joy and Benefits of Sports?
We Bring the Sports Stadium Experience to Homes and Communities.
My Backyard Sports is a customized, full service, all in one, sports specialty sales, design and installation company offering 3,000 sports related products for over 30+ sports servicing both residential and commercial clients. We cater to homeowners, schools, gyms, recreation centers, condominiums, real estate developers, and area businesses. My Backyard Sports fulfills the dream of bringing customized sports stadium experiences to our customers at an affordable price bringing health, wellness and happiness to all whom we serve. If our customers can dream it, we can design and install it.
 PRODUCTS AND SERVICES OFFERED
·       Sales and installation of high quality basketball hoops
·       Comprehensive and customized sports painting, patching and repair work for courts
·       Sales and installation of single or multi-courts for over 30 sports
·       Sales and installation of over 3000 sports related products and accessories sold in-person and through e-commerce
CLICK HEREto view our gallery and see what you can bring to your neighborhood.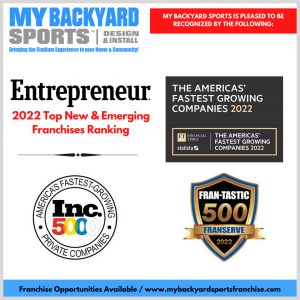 If you can dream it, we can design, build and install it!
The Affordable
Home Sports Experts.
Most people assume a professionally designed, high quality stadium experience unique to their property is out of their price range. However, we believe that it is possible to spread the benefits of playing sports daily without having a large budget.
Our Mission Is To Help Kids
Get Outside and Play More Sports
My Backyard Sports has an established model of building and installing affordable sports experiences for kids of all ages and families & communities of all sizes. Our wide range of offerings presents a unique opportunity for our customers to live their sports dreams from the comfort of their homes and in their schools and communities.
What Makes Us Different?
Unique selling proposition to our clients who have their own design requirements and needs
We serve clients private and public, including residential, businesses, municipalities, recreational groups and athletic associations
Operational model and comprehensive training for you and your staff making management easier and more efficient
Our culture – like none other – we literally have fun each and every day!
Open territory offers an opportunity to grow with our brand from the start
Low investment for startup of business – variety of revenues from a diverse client portfolio (request our FDD to learn more and review our Item 19.)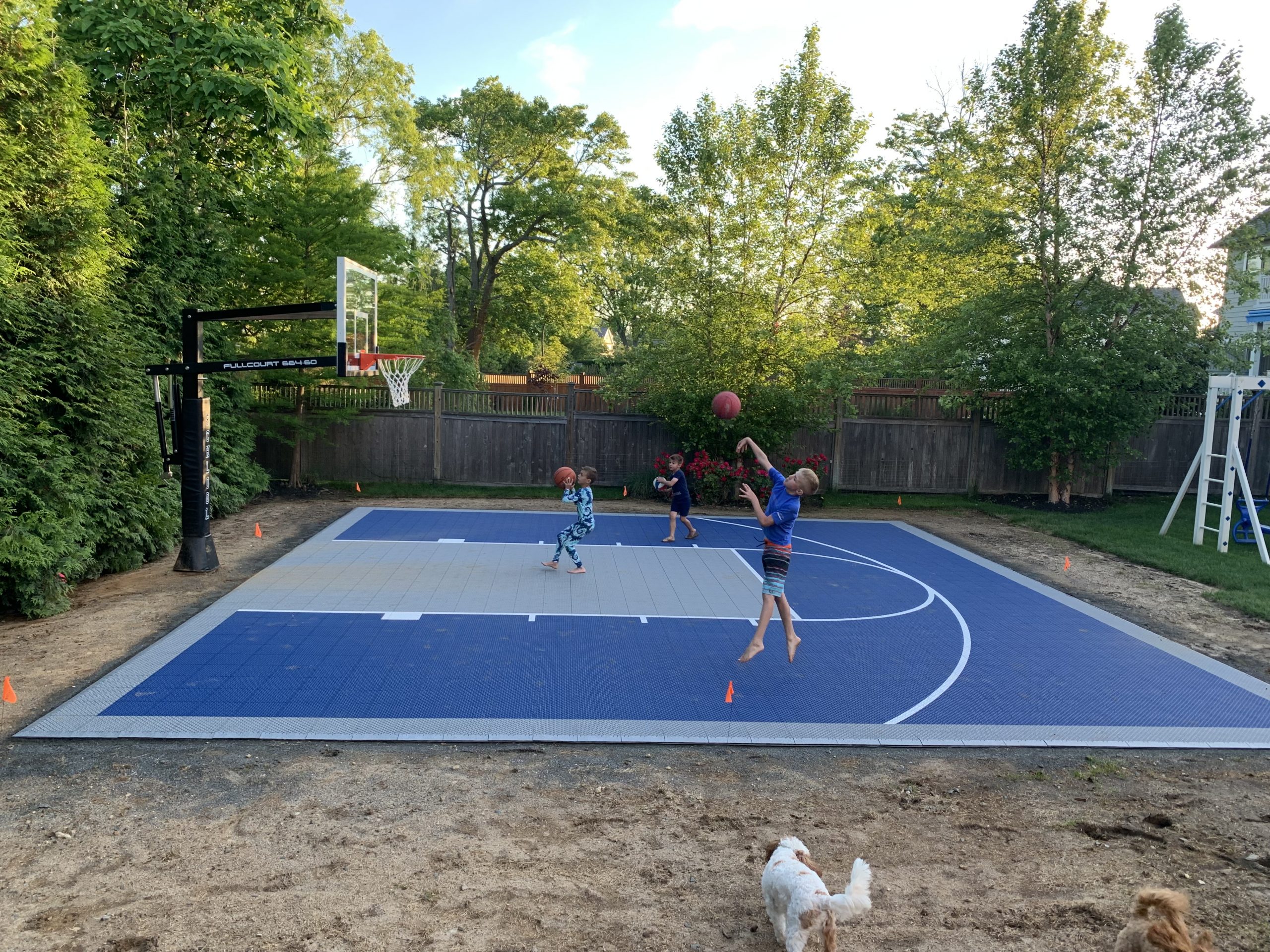 My Backyard Sports home office and their onsite crew led by Tyler were the utmost professionals. Easy to work with, no problem they couldn't solve, excellent communication, super positive, very knowledgeable, arrived on time and worked non-stop, very artful and prideful in their work and did an excellent job. Tyler was fantastic as the lead from start to finish. Coming from 20 years in high end customer service and seeing such a lack of it nowadays and all the excuses of why it is, it was so refreshing to witness. Your company made my kids' dream come true! Thank you!

Melissa Heuss
23:34 27 Oct 22
The people at my backyard sports are in a world of their own when it comes to professionalism. Working with Jonathon was an absolute pleasure. Unlike a standard contractor, who can only build what you tell them, this company truly understands what a basketball court is about. They were extremely transparent on all levels, and thought about everything that a high functioning basketball court needs. From proper dimensions on the court, hoop, and grading everything was taken in to account. The actual construction process was painless as they handled everything, and kept us informed every time a new delivery/process was taking place. Our Half court came out exactly how they drew it up, and is being enjoyed immensely by many. compliments were given in spades. If you are looking to build a basketball court, I highly recommend you reach out to My Backyard Sports

Raphael Bondi
02:35 14 Sep 22
The team from My Backyard Sports was excellent. The personalized planning I received from Michael Kraner and his team was outstanding. I recently underwent a project to lengthen my driveway, increase the height of my retaining wall and install a full-sized, adjustable basketball hoop. I included the MBS team in the planning process of the wall and could not have been happier with their quality, professionalism, responsiveness and ingenuity in getting a difficult install completed. Their focus on quality and safety regarding the overhang and install behind a five foot high wall was as if they were doing it for the safety of their own children. The personal touches were well received by my family. I would (and have) recommend their team to anyone looking to create the court they have always envisioned.

Mike O'Dowd
19:59 01 Jul 22
We are very happy with our court. From sales rep J. Moscou to installers, to office personnel, they were professionals all the way. Ease of ordering and following the process was key. Payments process easy too. Heck, we even got a call from the CEO checking in to make sure we were satisfied with the court - the night before he was to have some major surgery! Happy clients, and we would highly recommend them to all.

Edward Keating
13:59 23 May 22
Michael and his team did an excellent job installing 2 side fold wall mounts basketball hoops in a timely manner. I would definitely recommend other people use this company for hoop installations. Their pricing was fair and they were honest and transparent about scheduling. I would definitely use them again.

Gabe Davidson
17:02 11 Jan 22
I am beyond happy with my 6 x 6 Pole pad. I just got it and it's exactly what I was wanting. The only reason it's not on my pole right now is because it's freezing outside but I'm looking forward to putting it on and proud to have it for whenever kids and other adults are at my house playing basketball.

Skylar Kennedy
17:16 07 Jan 22
Mike and team did a great job installing a basketball hoop in our driveway!!! If you are looking for a sports solution in your driveway, yard or house….look no further. These guys are the best around!!

Jason Adel
15:26 24 Dec 21
What a fantastic experience. The team exceeded all of my expectations! They were able to meet my timeline for installation and were true professionals. My daughter couldn't have been happier to see her own personalized hoop.

John Wagner
13:32 23 Dec 21
Michael and the team did an amazing job! Professional, on-time, and great follow up to make sure we are satisfied. They worked through some difficult challenges since this was the biggest court they ever built. 100% satisfied customer!

Bob Hazard
19:59 12 Oct 21

There is so much I want to say about my experience with Jonathan at My Backyard Sports. It was an absolute pleasure to work with someone who really cares and listens in depth about the unique details of ones court.Jonathan has exception customer service relation. Thank you for your time, your dedication, and attention to details. Thank you for an amazing basketball court for our family. We love it!!I highly recommend this company!

Karina Brown
16:21 08 Oct 21
Micheal, Jonathan, Gustavo and the rest of the crew : thank you !I just had a chance to play basketball with my son last night on the new Versa Court you built for us , I not only enjoyed myself , I was very impressed with the quality !Would not hesitate recommend you to anybody .Well done job , thank you very much !

Ohad Barnea
02:47 09 Sep 21
We are fortunate to have an indoor basketball court and we wanted the floors resurfaced and lines painted blue for the key, foul line and a half court design. I have grown skeptical of all contractors ie work for hire for home renovation projects given past experiences but I have to say Michael and his team were amazing and definitely in the top 1% of experiences. I recommend him without hesitation. He came in with an extremely fair quote and his execution was so professional - Michael even followed up a few weeks later to see if any issues came up and remembered my son's name to ask if he was loving it - Michael truly has a passion for his work and its evident in the work product.

David Birnbaum
01:32 28 Jun 21
From our initial conversation to the last install detail, Michael and his team were beyond informative, honest and professional. Michael was very patient in explaining the different hoop options and helping us to make the best decision for our needs. Our basketball hoop install with the lines is definitely high quality. The entire process was seamless and easy. They worked around our personal schedule for when we preferred to have it installed and not their own timeline. The communication about their timing and arrival was impeccable. Highly recommend My Backyard Sports. You won't be disappointed by this professional and courtesy team.

Danielle Devincenzo
00:11 06 Jun 21
Graham did an awesome job and my boys are so excited to finally have lines on the court!

Keri Russell
00:28 28 Apr 21
This is a great company if you are interested in purchasing a basketball set from them. The guys were on time, professional and cleaned up. No mess was left behind. The quality of the basketball pole set was fantastic. I played ball when I was younger and it's great to play with family and friends making memories. Highly recommend them.

Christine Shalayda
17:46 27 Apr 21
Amazing company from start to finish. Mike was a pleasure right from the start. Honest, informative and professional. The hoop is amazing . Debbi and Devin were polite and helpful the whole way . I could go on and on. I have been playing and coaching basketball for over 40yrs. If you want quality this is the company to work with. Can't wait for my court to be painted in a few weeks !!! Thank you so much, my kids love it!! Danny Alcott.

Jayda Alcott
22:28 31 Mar 21
Mike and his team were wonderful. The product and service is remarkable. We love our hoop and couldn't have asked for a better company to transform our driveway.

Uzair Baig
22:07 16 Mar 21
Michael and his team put in a basketball hoop and high school key and three point line. They were outstanding to work with, very professional and the quality of their products is excellent. We could not be happier with the work they did.

Chuck Torres
16:55 14 Mar 21
We purchased a Goalrilla basketball backboard and rim from a sporting goods chain. After talking with the recommended installation company from the sporting goods chain we reached out to My Backyard Sports. We were not happy with the big chain service promise. Michael was amazing and shared with us so many details around the hoop installation process from the cement pouring to the backboard hanging. The gentlemen that did the installation were fast, cleaned up perfectly and installed the equipment without a flaw. It's been more than a year and the install is as good as day one, our kids use it almost everyday. I would without a doubt recommend My Backyard Sports for any sports related installation.

Michael Bekiarian
16:33 12 Mar 21
Very happy with My Backyard Sports. My three boys love the basketball hoop. Michael and his team were professional and responsive. Thank you My Backyard Sports.

Todd Mitchell
16:00 08 Mar 21
We reached out to MICHAEL to build this hoop for the kids during a pandemic not only did he deliver the product on time but he also delivered memories that will last forever highly recommend using Michael and his company

Mike Liloia
23:33 20 Feb 21
I purchased a basketball hoop for me and my 9 year old son in the spring and was a great purchase. I am able to practice with my son at 9 feet for his age and 10 feet for different leagues. I coach my sons team and it helps me work on good drills that will really help the kids get better. My son has friends come over and play pickup games which keeps them away from screens. I highly recommend this company from quality of product and came and did installation on date they said. Will be able to have a lot of fun for years and years.

willis schouten
15:52 01 Feb 21
Michael and the team at My Backyard Sports did a tremendous job recommending and installing our basketball hoop at our home. The personalized and customized service, quality and affordable products, attention to detail and the magical, signature big red bow made this experience wonderful. I highly recommend My Backyard Sports for any of your outdoor athletic court needs!

Scott Saperstein
22:12 27 Jan 21
Great hoop great service. Having it installed on our driveway helped my son get into his high school team. Thank you!

Sas Shalom
20:24 27 Jan 21

Chad Issaq
17:18 27 Jan 21
Really the BEST company to work with! Reliable, professional, friendly and easy to work with. We love our basketball court, pickle ball court and hoop. It all came out exactly as we expected it to. Don't go anywhere else!

shari Alter
15:14 25 Jan 21
Mike and his team are a pleasure to work with. They built our two boys an amazing backyard Ultrabase hockey rink this summer (which has now been adapted to an ice rink). Mike is super attentive and responsive. The team built the rink with great care and quality. They are perfectionists and no detail was spared. The cherry on top of the sundae was customized decals for the dasher boards which put a big smile on the kids' faces. We recommend MBS without reservation.

David Katz
00:57 25 Jan 21
We are very satisfied with the basketball court and My Backyard Sports were a pleasure to work with.

Mesivta Ahavas Hatorah
23:11 19 Jan 21
This is a Company that cares about the quality of the product, their service and your happiness with the end result. Michael and team were on top of this from my first call and 2 years later still checks up periodically if things are well and we are happy with the hoop and court.

Akiva Distenfeld
15:30 19 Jan 21
Great quality basketball hoop. Very knowledgeable staff!

Billy McMahon
15:20 19 Jan 21
I highly recommend Backyard Sports. Responsive, professional and polite. They really did a great job on our basketball hoop installation.

John Dabney
23:08 16 Jan 21
Mike and his team are absolute rock stars. From the first call, to follow up, customization, installation... everything! You can't go wrong with them!

Ismael Valenzuela
17:23 16 Jan 21
I am a father of 2 very athletic boys and am fortunate that they have never been the type of kids to choose a video game controller over playing ball outside. The Covid pandemic hit our household hard when organized youth sports were shut down for months and after cancelling a few planned family vacations, my wife and I decided to put the money into an outdoor basketball court, where we knew the ROI would be immediate and lasting for years to come. We could not have been more right!!! There is not a day where it's not being used... and even better... we get to spend more time with the boys since friends will come from all over to shoot around, play pick up games, and play H-O-R-S-E.Our salesman Jonathan was professional, knowledgeable and extremely helpful throughout but what set My Backyard Sports apart from the other companies we had contacted was when Michael, the owner, personally reached out to answer any questions we had... and he stayed in contact throughout the entire project! That level of caring and involvement is not common in today's cookie-cutter world of rushed jobs and cutting corners. I would highly recommend My Backyard Sports to anyone considering this type of investment for their families to enjoy! Thanks Jonathan and Michael... you guys absolutely ROCK!

Jason Russo
21:57 14 Jan 21

Dean Gentle
22:22 11 Jan 21
Five stars are not enough to give to Michael and the gang at My Backyard Sports. I was impressed from my first conversation with Michael to watching our hoop be installed by members of a team that truly love and take pride in what they do. Despite the pandemic and adverse weather conditions, the team showed up on Christmas Eve to make sure our new hoop was great Christmas surprise! I would recommend My Backyard Sports to anyone looking for a quality job!

Wow. Called several installers for my new hoop. The boys at mybackyardsports.com called me straight away. Quick appropriate quote on phone. Quick follow up with install process. Quality - outstanding. You know when you get lucky online - then feel so fortunate and well taken care of? That's the deal here.Thanks guys! I'd give you 6* if it allowed!

Paul Essner
17:01 04 Dec 20
Victor and team have great ideas to to fit most budgets.

George Zacieracha
17:17 09 Nov 20
I worked with My Backyard Sports to have a personalized hoop installed as a birthday present! I was very pleased with their responsiveness to all of my questions and their assistance in helping me pick out the best product for my needs. The installation was professionally done and the area was left clean when the installers were done. Would highly recommend this company to others!

Dennis Ondrejik
19:02 28 Jul 20
Ok, option if you're really patient and willing to clean up yourself.Experienced and insightful sales department, but it took over six weeks to get the hoop installed. I understand COVID has impacted everything, but I had to follow up myself every week to get things moving.The base was clearly not centered, but they installed the hoop anyway.Overall it looks ok, though it would have look much better should they have cleaned up and hauled away.I must say I was expecting more for an almost 3k investment.

Not only does the hoop look amazing. It plays perfectly. The customer service by Michael and his team was second to none. Although this hoop will last my lifetime, if I ever needed to buy another, I would buy this again.

I purchased a basketball goal from the website. After purchasing and charging me I was informed that they could not honor the purchase. Three days later and my money is still pending being refunded.

Kevin Starr
17:59 24 Apr 20
From start to finish, design to installation, Mike and the team were truly professional and excellent. Could not be happier with the way my basketball court turned out — the kids don't stop playing for a minute! Mike was personally involved throughout every step of the way, going above and beyond at any time of day to answer my questions and make the big decisions. Even after a massive tree fell on the court only a few months after building it, causing massive damage, Mike and the team stepped in right away, prioritizing me to ensure my kids would not have to go too long without the court they love. If you're reading this, don't hesitate to choose Mike!

Kevin Cyrulnik
16:30 25 Mar 20
Michael's team did a great job. Very communicative, professional and meticulous. The kids are thrilled and we're very happy with our purchase and experience.

Elio Lombardi
01:43 18 Mar 20
Summer of 2019. My kids are away at sleeapaway camp. They are due to come home the third week of August, and the first week of August my wife and I decide we want to surprise them with a hoop and basketball court in the driveway. On an incredibly short time frame, Mike came to my house, sent me links for what I needed and got the excavation, installation and and painting of the driveway done on an expedited schedule! When my kids got off the camp bus and we got home, we pulled up to the house with them shrieking OH MY GOD as they saw the court, hoop and red ribbon hanging on it! The rest of the afternoon was a three point shooting contest.I cannot recommend My Backyard Sports more strongly. Use them!

Jason Paris
15:53 03 Mar 20
Michael Kraner and his team were absolutely wonderful to work with: My Backyard Sports replaced the gym floor at the Temple Israel Center in White Plains, and did so facing some significant challenges. Overall, Mr Kraner was genuine, as he and his team worked tirelessly to deliver and complete the project on time, with a focus on the quality of the work while communicating regularly with the building management. I highly recommend My Backyard Sports!

Michael Dittelman
15:26 03 Mar 20
Mike and his team were very professional, knowledgeable and provided great service. The quality of work was exactly as expected and we would highly recommend them to anyone looking for the best!

Samantha Williams
19:53 25 Feb 20
Great experience working with Mike. His level of responsiveness and honesty is tough to find, highly recommend MBS

Michael and his team did a great job helping me choose the hoop brand and the model and then working with me on the install days. The custom decal made a big difference for my 9 year old. He is very happy with the hoop. It looks great and all within the budget.

Elman Rafailov
03:30 21 Feb 20
Mike is extremely knowledgeable, courteous, and a truly genuine businessman. I rarely post reviews but I felt compelled to do so to aid future customers with their decision process that they needn't look past MyBackyardSports. They are second to none.

Brooks Stansfield
19:32 14 Feb 20